Once again this year, SysTec invited to participate in the customer survey. As a show of gratitude for the feedback, a raffle was held for all participants.
Excellent results: customer survey 2021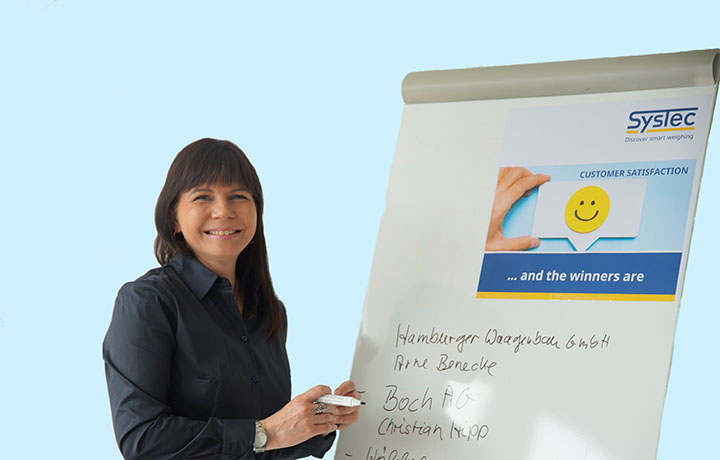 The three winners were pleased to receive a mobile barbecue set. Congratulations go to Christian Hipp (Boch AG), Arne Benecke (Hamburger Waagenbau GmbH) and Detlef Mischke (Höfelmeyer Waagen GmbH). The winners were drawn by Sabine Schirrmeister, who has been working at SysTec in the areas accounting and head office for more than 20 years.
In 2021, SysTec achieved very good results in the customer survey thanks to high quality products and competence in customer service and technical support. The average overall satisfaction score in 2021 was 1,52 (on a scale from 1 to 5, with 1 standing for very satisfied).

The survey results show the establishment of SysTec products in the customers' daily working lives and how the weighing terminals have proven themselves for the use with several industrial scales. The customers gave a very positive assessment concerning quality, product range, functional range, free programmability, modularity, versatility, robustness and delivery speed of our weighing systems. Special mention was also made of the technical competence and consulting quality of the Systec team. Besides numerous good ratings, there was also cause for critical feedback and suggestions for optimization, which serve SyTec as motivation for further improvement of the mentioned products and services.
Many thanks to all who took their time for the comprehensive evaluation of SysTec.
Selection of feedbacks and product evaluations:
"The devices are very good. I like the fact that I can realize about any application with all scale types."

"A big plus is definitely the modular design with the same components in different devices."

"Various possibilities for adaptation for hardware, software diversity and PC tools."

"Plus: Reliability, functional scope, modularity and top quality."

"Solution-oriented, +high quality, +flexible."
Selection of feedback regarding the collaboration with SysTec:
"Competent contact persons and short delivery times for hardware."

Advantage: Competence of the technical support, close location, short delivery times."

"Advantage: Partner with long time experience and competence, disadvantage: none."

"There are no disadvantages. An advantage is the fact that the declaration of conformity can be made via SysTec."

"Technical hotline with skilled staff + fast delivery."