Weight indicators for vehicle scales & truck weighing
Robust. W&M approved. Efficient.
When the task is to precisely capture vehicle load, the method of choice is the use of truck scales. W&M approved weighing indicators are at the center of high performance installations. Our robust weight indicators are used in vehicle scales wordwide.
Apart from capturing weight, SysTec weighing electronics permit simple handling and operational control of additional functions, such as loading and process supervision. The robust weight indicators for truck scales & vehicle scales are incorporated in stainless steel housings. Furthermore, they are protected in accordance to IP69K. Our weighing systems work reliably under harsh environmental conditions. With a variety of supported interfaces data can be transmitted to PCs, ERP systems or into the cloud. Printers can be connected to print weightickets or reports.
Which weighing indicator fits best your vehicle scale?

Just contact us - our experts will be happy to advise you!
7 good reasons for SysTec weight indicators
Simple operation of the robust W&M approved weighing terminal (stainless steel case, IP69K)
Storage of address, product and vehicle files
Software can be adapted to specific customer requirements
Simple integration in PC networks and SCADA systems, printer connection for weighticket and reporting
Optional control of traffic lights, barriers, remote displays and transponder readers
Optional connection of several weighbridges for switching and summing functions
Large, brightly lit TFT display
Wheel load scales & axle weighers
Is a truck overloaded? Is the load of a commercial vehicle optimally distributed among the axles? Wheel load scales and axle weighers ensure safety on the road and help freight forwarders and transport companies avoid fines.
Wheel load scales are used to automatically determine the weight load of individual vehicle wheels or the total vehicle weight. Permissible wheel loads are limited within the load capacity depending on the specified speeds. Wheel load scales are often used in pairs to determine axle loads as well as for monitoring road traffic. Optimum weight distribution on the individual axles of a vehicle plays a decisive role in the safe transport of loads. Axle load scales are used for this task. Our W&M approved weighing indicators are ideally suited for these types of vehicle scales.
Success story: dynamic truck weighing
W&M approved. Dynamic. Innovative.
A milestone in dynamic vehicle weighing - the new Weigh-in-Motion systems by BATSCH with integrated weighing terminals from SysTec. Discover more - read the best practice story.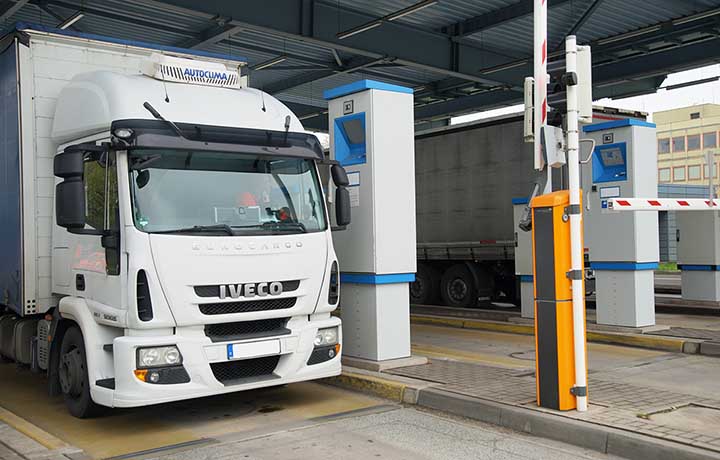 Case study: thyssenkrupp Steel
Digital. Robust. Fast.
In Germany, the company thyssenkrupp Steel operates the second largest logistics hub in Duisburg. More than 2,000 trucks pass through the plant gates every day and are weighed on the digital truck scales, which are equipped with SysTec weighing terminals.
Application areas: vehicle scales
Typical applications of truck scales are incoming or outgoing weighing transactions of loaded or unloaded vehicles, loading of tank or silo trucks, determination of load for agricultural operations or biogas plants, as well as capturing of weights in recycling companies.
Example of a configuration with weighing terminal IT8000E TRUCK/ONLINE
Example of a configuration with weighing terminal IT6000E TRUCK/ONLINE
Model
IT3 TRUCK/ONLINE
IT4000E TRUCK/ONLINE
IT6000E TRUCK/ONLINE
IT8000E TRUCK/ONLINE
W&M approved as NAWI,
with weight storage
First / second / single-pass weighing
with printing
Online / offline mode
Connection for PC network
and remote diagnosis
Axle weighing
-
Product and vehicle files
-
Address file
-
-
Weighing data memory
(internal, USB stick)
-
-
Custom-specific modifications
-
-
Switching / summing mode
-
-
-
Alphanumeric keyboard
-
-
-